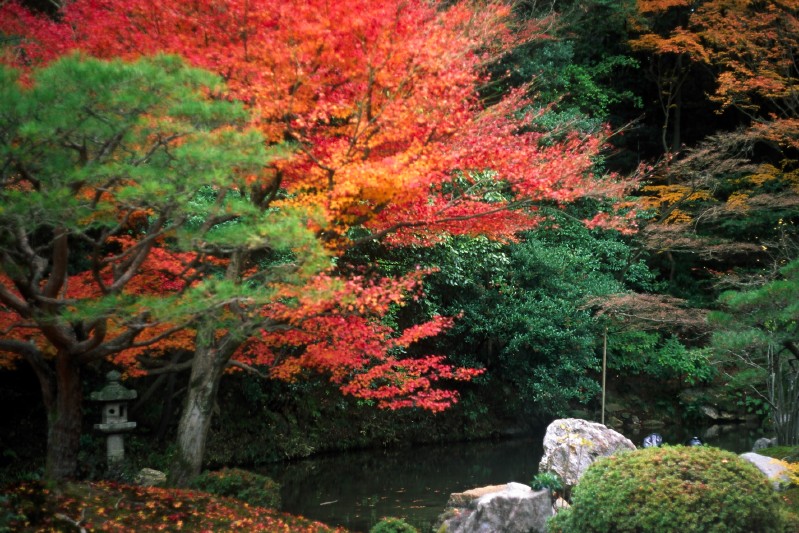 Scanned and uploaded my Kyoto pictures taken in my December trip to Japan. Rainy days give good colors, and the leaves were still nice and red.
For several years my brother Antoine had been telling me about his horse treks in Kyrgyzstan, so this year I finally decided to accompany him and his friends, Bernard and Rose-Marie Repond, who have traveled extensively though Central Asia.
We traveled from France via Moscow, taking the daily Aeroflot flight that gets into Bishkek (the capital) in the middle of the night. There Ishen Obolbekov was waiting for us. Together with his wife Gulmira and his brother Rash, Ishen runs Shepherd's way Trekking, a company that organizes horse treks in several mountain ranges throughout the country.
Getting there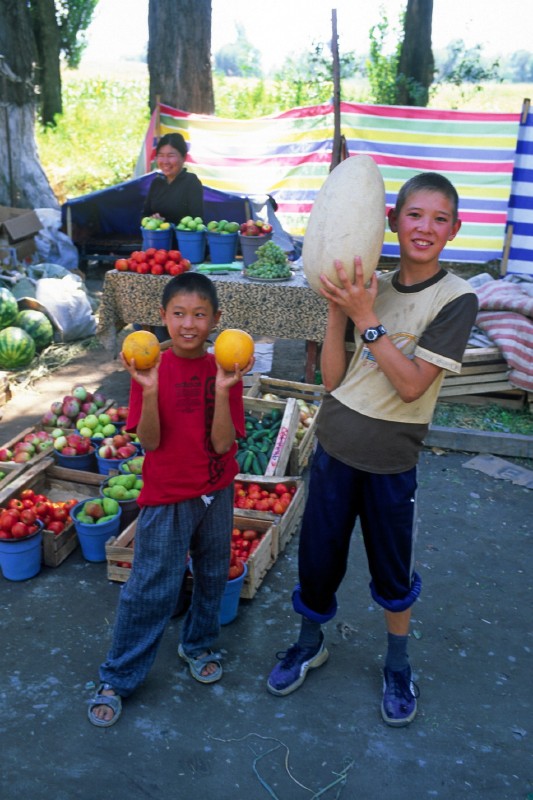 We first drove from Bishkek to Naryn, where we spent the night in the guest house run by Celestial Mountains Tours, then to Tash Rabat, one of the best-preserved caravanserails from the Silk Road. In Tash Rabat we met our guides Toko and Esen, who had brought the horses by truck. After a few quick instructions on how to handle the horses ("tchi" to advance, "brrr" to stop) we were off to our first pass, 4000 meters high but not too hard, that led us to the southern side of Ak-Say range.
Days 1-7 - Ak-Say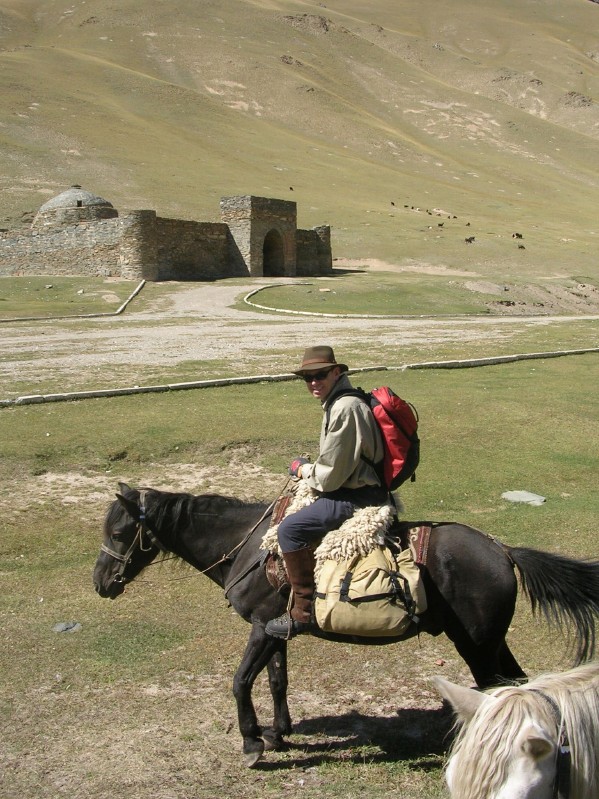 Ak-Say is a range that runs from southwest to northeast near the Chinese border. Its northern side is drained by the Naryn river (the former Syr Darya), and the rivers on the southern side feed the Kakshaal river that flows into China. For a whole week we rode towards the north east, always above 3000 meters. Every day we met shepherds and marmot trappers from At Bashi, on the northern side of the range. Most spend only the summer on the south side, but some stay for the winter, a very cold prospect indeed. Wolves are just about the only distractions you can expect.
Days 8-9 - The Ulan river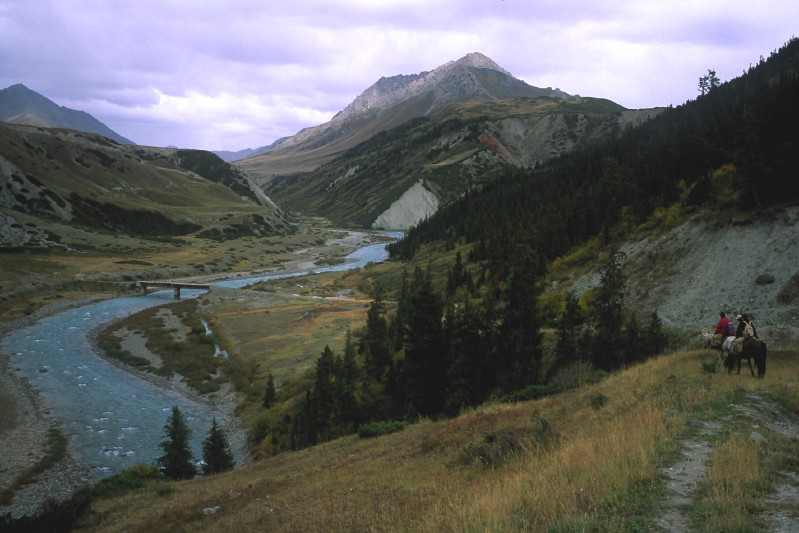 After crossing the strategic road that leads to Chatir Kul lake (our only camp below 3000 meters), we started going up along the river Ulan. For one day we rode on the northern side of a long canyon of red earth, along a narrow trail several hundred meters above the river. I did not take pictures that day, for fear of losing the horse's reins. The next day, after an easy pass at 4000 meters we descended the northern Ulan river, inside a narrow canyon of red mud where we had to dismount, and arrived at a lodge run by a hunting company. There are quite a few of these operators in Kyrgyzstan, who charge several thousand dollars for the right to kill endangered Marco Polo sheep.
Days 10-11 - Up the Karakolka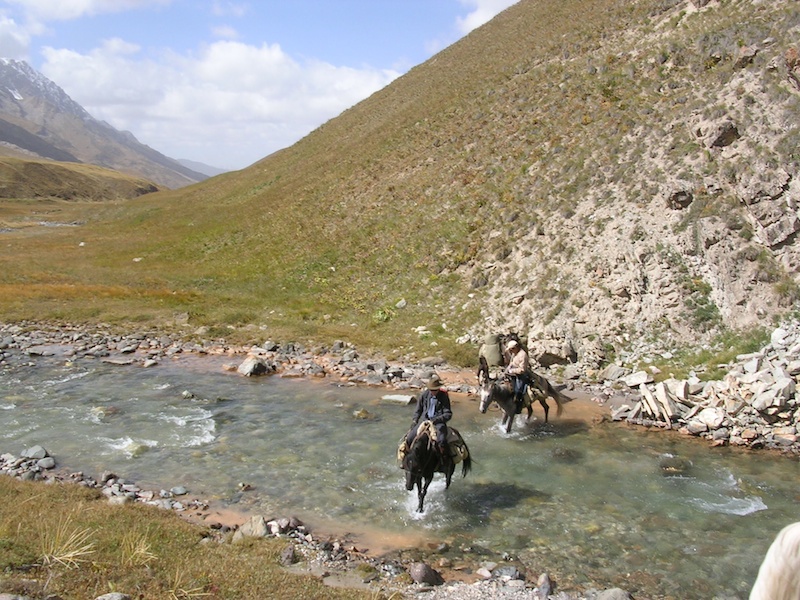 After a long afternoon up the Naryn river's flat bed, we arrived at our planned meeting with Rash, who was bringing supplies for the rest of the trek. It was quite a logistical achievement for a party of horses to meet a truck exactly at the right time after 10 days, with no communications whatsoever. (Cell phone coverage is limited to the cities). The next day we started the trek up the Karakolka river, crossing it several times. This is where the skills of the horseman count : You cannot cross these fast-flowing rivers on foot, but horses can cross up to a depth of about one meter.
Days 12-13 - The Chakyr Korum pass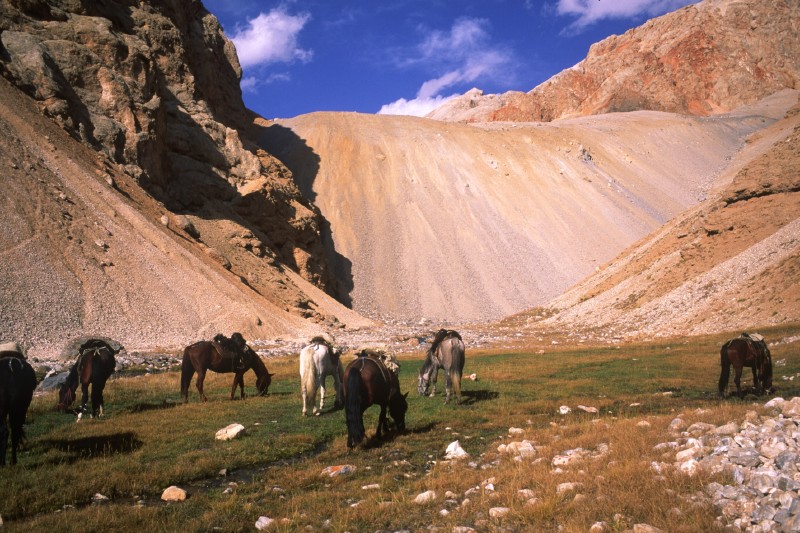 We camped at a site with a breathtaking view, just below a steep natural dam of white gravel. Toko announced with a big smile that we would be riding up this dam. Indeed the next day we started on foot, and entered a canyon of white rock, lined with vertical red cliffs. The canyon itself is impassable for horses, so we had another steep climb out of it, and arrived on the high plateau on the north side. After yet another long descent we camped on the bed of the Chakyr Korum river. The next day we climbed our last pass (Kara-Suu) at 4000 meters, and finally got to Kara Sai, where Rash was waiting for us with the truck. We had the good surprise to find a hot hammam in the hunter's lodge.
Day 14 - The Ak Shirak canyon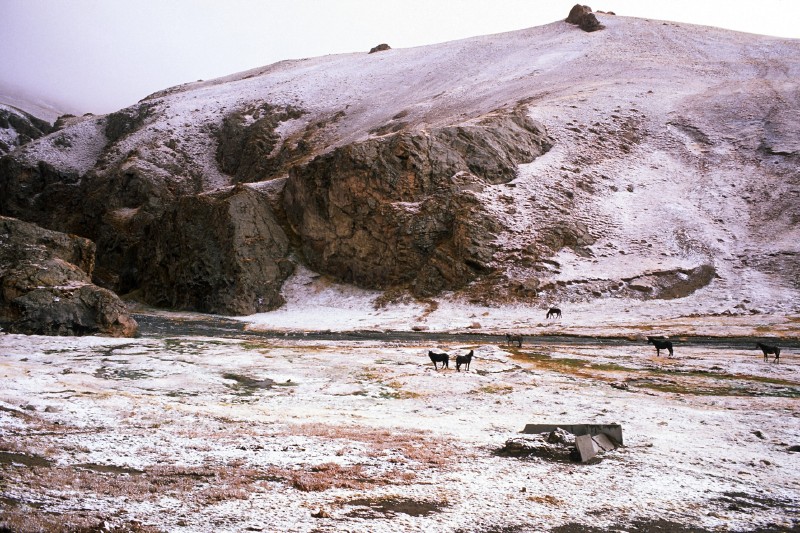 We spent one day to travel by minibus to a spectacular canyon not far from the Chinese border. Bt that time the weather had changed and we did this under a snowstorm. We got back to Barskoon under a full moon up the "pass of Bones" at 4000 meters.
Barskoon, Karakol and return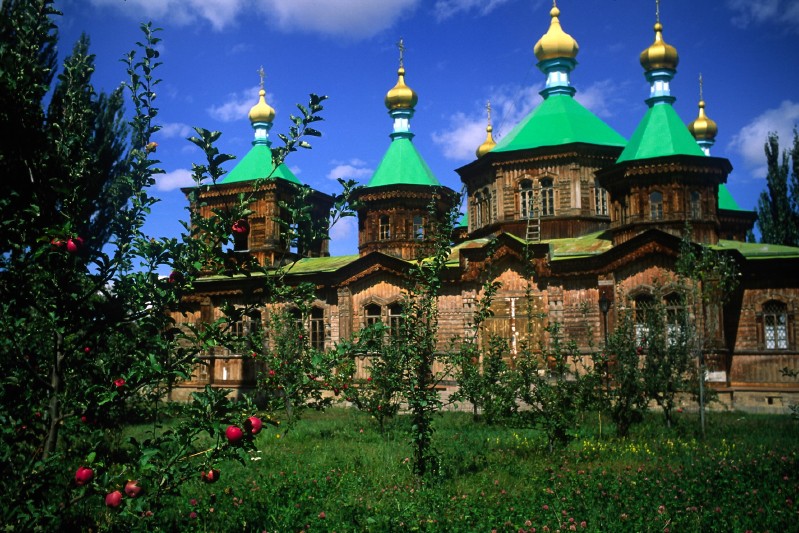 Barskoon, by lake Issyk Kul at 1700 meters, was a welcome rest. We spent one day in nearby Karakol, a pleasant town with a fine museum commemorating general Przhevalsky, a 19th Russian explorer who lead several expeditions in eastern Siberia and China.
We had spent 14 days on horseback, riding 5 to 6 hours daily, and covered at least 300 kilometers. Even though this was my first time on a horse, I felt fine when arriving. The horses are very sure-footed, and the saddles (made of wood, but covered with a thick sheep skin) are quite comfortable.
Overall this was a great experience, and I look forward to return to Kyrgyzstan, though perhaps for a shorter trek this time.